The ClinSmart Concept
The ClinSmart Concept is the modern way to perform clinical trials. It's the CTC way of performing effective clinical trials utilizing the latest methodologies and techniques.
We are living in a digitalised era that constantly changes
Since the start of CTC, we have believed in innovative techniques and are not afraid of adapting to modern technology. By using smart solutions and well-established processes, we have developed one of the most optimised ways to plan, conduct and report clinical trials.  
The ClinSmart Concept is integrated in all our daily work enhancing our full-service offer as well as our site network.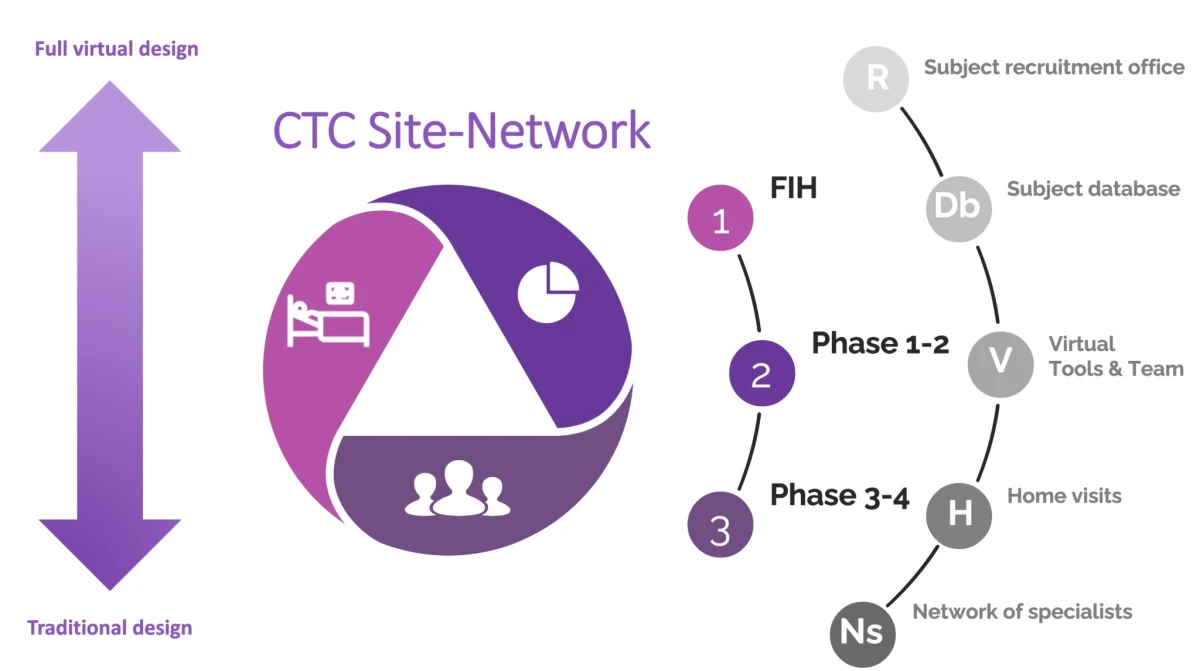 Full-service offer
In full-service projects we use our full ClinSmart concept to provide our clients with a fit for purpose, cost-effective and smart study approch, including our toolbox for a full or hybrid virtual design of the study. This includes tools for virtual visits and assessments, home sampling as well as e-consent.
With our own fully equipped research units in Uppsala and Stockholm, we can easily adapt in where to conduct the trials and best of all; there is no gap between operations and site. The Site Network enables us to conduct decentralised trials with satellite sites if needed. At the sites we have both close connections to external physicians and in-house medical experts in several therapeutic areas. 
For building our own e-CRF:s, we use the Viedoc solution and if there is a need for a diary, we will create a user-friendly e-diary with direct connection to the e-CRF to avoid extra data entry. This makes it easier for both subjects and staff. All to do the clinical trial even smarter.
CTC Site Network
Our own Site Network consist of 4 fully equipped research sites with state-of-the-art facilities and dedicated personnel covering trial conduct from First-in-human to phase IV. The ClinSmart concept connects the sites with common routines, tools and processes for conducting effective clinical trials. All sites have professionally trained staff and a common Quality Management System with regular internal audits.
Recruitment is the key to a successful clinical trial. CTC ClinSmart concept focuses on patient-centric recruitment and pre-screening with our own subject database, web-based tools and in-house recruitment office.
Our site network in combination with the ClinSmart concept enables a high capacity to include large groups of subjects and CTC conducts trials within most areas in Sweden using our Network of Medical Specialists and in-house physicians. If desired, we offer to include virtual elements, remote monitoring and home visits in our clinical trials and the Site Network enables us to conduct nationwide decentralized trials with satellite sites. We also have our own tools for conduct of virtual assessments, home sampling and e-consent.
CTC has participated in over 450 industry sponsored clinical trials on behalf of small start-ups as well as large international pharmaceutical companies and CROs.