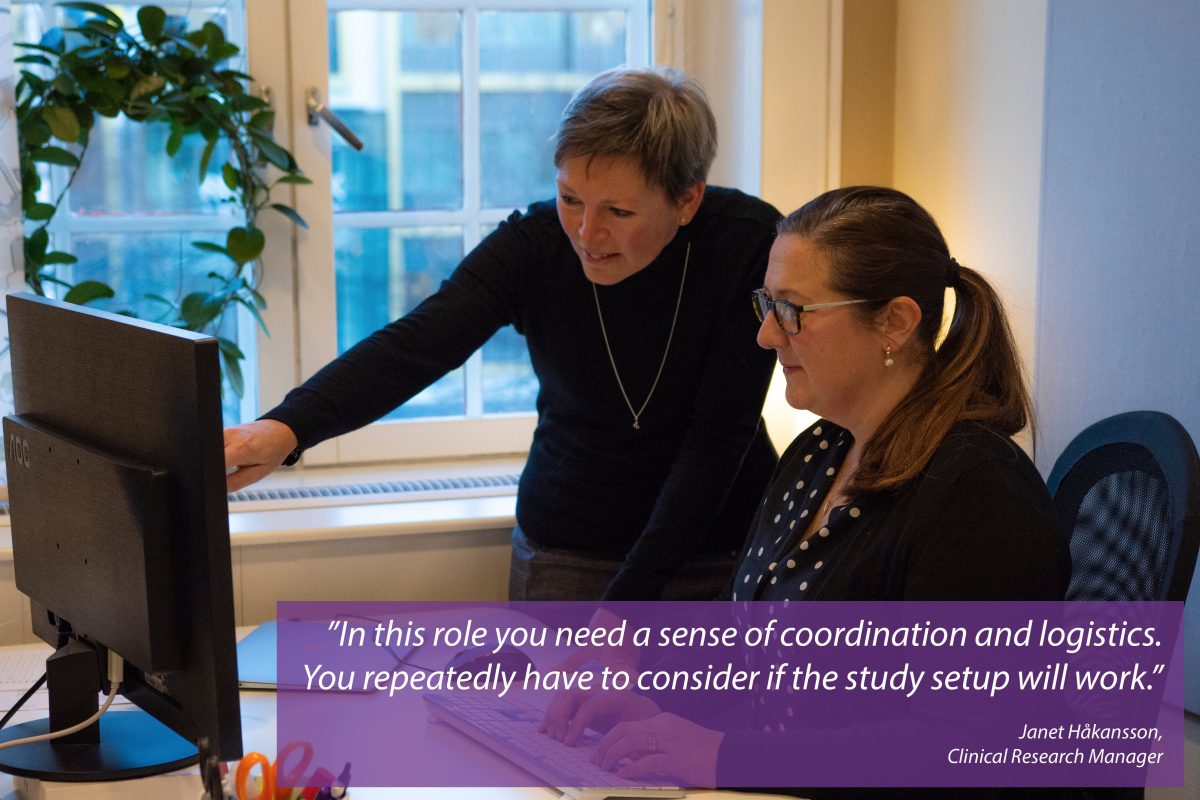 Project Management, the silver thread of a clinical trial
Janet Håkansson works as a clinical research manager at CTC Clinical Trial Consultants. She has more than 10 years of experience within clinical research and has been working with medical device, pharmaceuticals, probiotics and nutrition research.
Janet Håkansson has a degree in molecular biology and used to work with applied science as a senior research scientist before switching to clinical trials. At CTC she has for example been managing a number of PET-studies, especially in the diabetic research area.
"In this role you need a sense of coordination and logistics. You repeatedly have to consider if the study setup will work, both in terms of the patient and the clinical research unit."
CTC is specialised in First-in-Human-studies and it's important that all clinical research managers are well informed about the preclinical parts of the project as well as the status of the manufacturing of the investigational product. These are two key areas that often influence the study timelines. The study preparation part is sometimes very extensive and requires an intense communication with the sponsor as well as with medical and scientific experts at CTC.
"Initially we have a kick-off with the sponsor and discuss their needs and make sure that we have a common approach to the subsequent steps. It's important to highlight possible risks early on in a project."
As a clinical research manager, Janet Håkansson guides the sponsor all the way through a clinical trial and coordinates all internal activities. Unlike many other CRO's, CTC has in-house clinical research units as well as a pharmacovigilance department, and can hence offer a true full-service solution. Most activities are coordinated under the same roof, with a collected expertise and short decision-making paths.
"Most often the first step is the start of protocol development, coordinated by one of CTC's medical writers, but we also plan for meetings between the sponsor and CTC's scientific and medical advisors, statisticians, pharmacokineticists etc. Later on, when the study is about to be conducted, there is a short and well-planned pathway to our clinic."
Since each clinical research manager usually has several ongoing projects, flexibility and an ability to adapt to new situations are important. A continuous dialogue with the sponsor as well as knowledge of all of CTC's operational units are also central aspects.
"It's important to ensure that the clinical trial will be conducted in accordance with guidelines and regulations and that it´s practically feasible. This is done together with the quality assurance department."
Janet Håkansson handles the applications to the competent authorities, sets up biobank agreements, ensures that the study team will get the necessary training and that all agreements with vendors, e.g. laboratories and pharmacies, are in place in due time.
"The study team always includes the responsible clinical research nurse who has practical experience of clinical conduct. The fact that we have our own clinics opens up for a good relationship with clinical research nurses and physicians, and we always have access to medical expertise."
Another important part in Janet Håkansson's working day is the contact with clinical research associates (CRA's) and clinical trial assistants (CTA's), who oversee that the study is conducted and documented in accordance with the protocol, Good Clinical Practice (GCP) or ISO 14155 and applicable ethical and regulatory requirements.
CTC focuses a lot on niche areas and innovative techniques. This is why all clinical research managers at CTC have their own specialities. Janet Håkansson, for example, has recently learnt more about Expert Precision-QT (EPQT) for an upcoming study.
"We always consider what the sponsor might need to expedite the development of their product and we try to create an as time-saving and cost-effective solution as possible."
Janet Håkansson enjoys the challenge of being involved in different types of studies, which widens her knowledge both when it comes to different therapy areas and treatments. In particular, she likes to establish new contacts with key persons involved in a project.
"The best thing about working at CTC is that I constantly gain new knowledge about different treatments, techniques, patient populations and study designs. I also enjoy to take part in the development of well thought out processes that enables us to guarantee a high-quality delivery no matter of the study design."