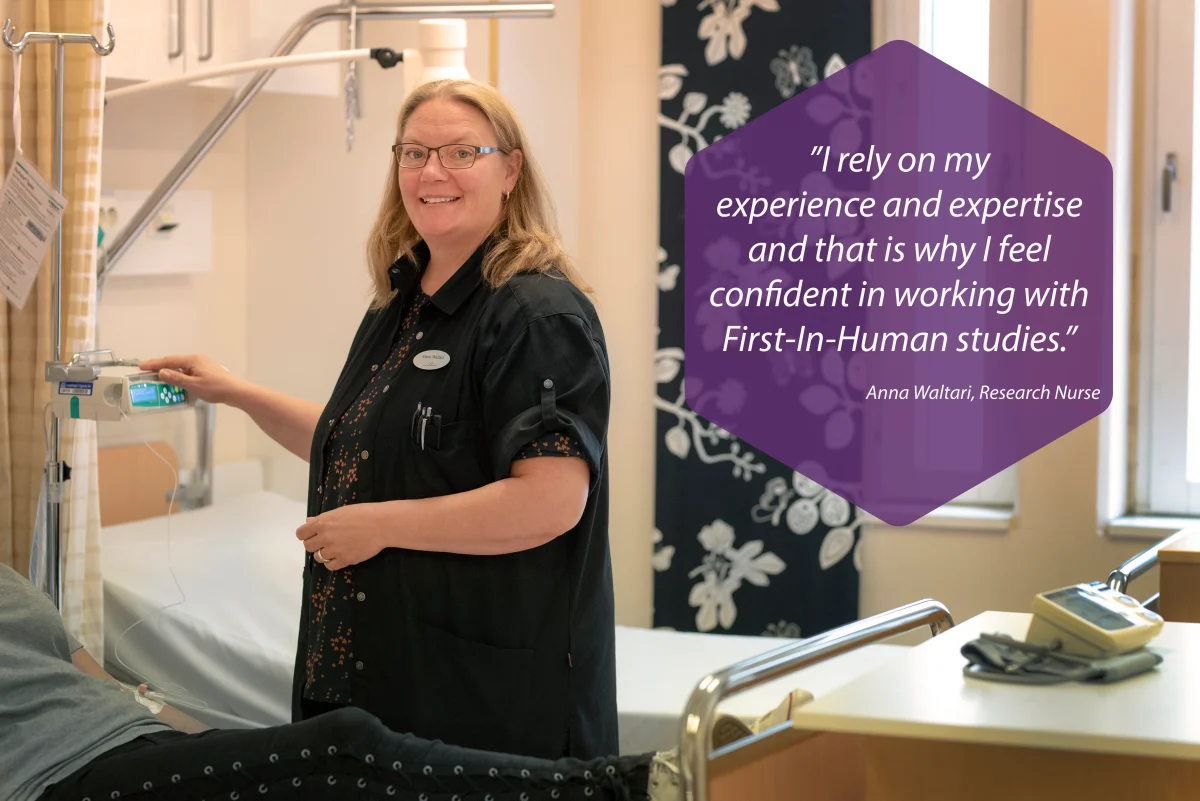 First-In-Human, where Safety comes first
To perform top class First-In-Human (FIH) studies with safety in focus, long experience and high competence is the key according to CMO Folke Sjöberg and Research Nurse Anna Waltari at CTC.
Our FIH research unit has 12 hospital beds and is conveniently located adjacent to the intensive care unit (ICU), PET-centre and MR-facilities at Uppsala University Hospital.
Anna Waltari, Research Nurse at CTC, has 15 years' experience of intensive care. She explains why experience is extra crucial when working in a FIH study.
"You must be able to see the early signs indicating that a patient is feeling unwell. Even before they notice it themselves. That's where my experience comes in. I'm used to it and I know how I will react in acute situations. I rely on my experience and expertise and that is why I feel confident in working with First-In-Human studies", Anna Waltari explains.
Chief Medical Officer (CMO), Folke Sjöberg, has conducted a thorough risk assessment prior to the start of each of the 25 FIH studies conducted at CTC since 2012. He has been working with clinical trials since 2000 and has 27 years of intensive care experience.
"Risk assessment is the first important step. For the purpose, we work closely with both the Sponsor and the Medical Products Agency. We consider the risk for immediate safety issues such as toxicity, allergic reactions and harm to the reproductive systems as well as potential long-term consequences."
CTC has experience in setting up adaptive FIH umbrella protocols including single and multiple ascending dose cohorts, food and drug-drug interaction parts, and patient cohorts.
"By using an adaptive design, we can speed up the process and work in a more cost-effective manner", Folke Sjöberg explains.
In addition to standard assessments, new, innovative techniques have been incorporated in many of CTC´s early phase studies. As one example, we are a certified ERT-site for expert precision QT (EPQT), a technique that may give the possibility for a TQT-waiver. We also work closely with Immuneed to provide in-vitro risk assessment of immunological reactions, cytokine release and complement activation in a closed blood-loop system.
"The main task in a FIH study is to minimize risks for subjects and patients and to evaluate the safety profile of the drug candidate, but of course it is always of interest to investigate potential efficacy signals that might indicate if the product has a chance of becoming a successful drug in the end", Folke Sjöberg says.
Prior to a study, the research team make sure everyone is prepared and well informed, that the ICU knows that a study will start and that all equipment is completely updated.
"The right mind-set is important so that you pay full attention and act instantly if something happens. Even though an extensive preclinical program always has been performed and despite that serious adverse events are extremely rare, you never know how the drug will behave in the human body and therefore the highest preparedness is always required", Anna Waltari tells.